2023 MOST COMFORTABLE MATTRESS
---
We've helped over 10,000,000 consumers online.
We receive referral fees for products purchased through links on this website. Full Advertising Disclosure Bestmattressonline.org is a mattress review website that compares brands, provides information about their mattresses construction, warranty, return policy and more. We do not list all mattress brands out there. We do our best to provide accurate information, but we can't guarantee that it is. Mattress companies often change their products, prices, warranty periods and more. The best way to get accurate information is to go to each company's official website. We receive referral fees for products purchased through links on this website. Referral fees we receive from mattress companies do impact our rankings, ratings and reviews. See our How We Rate page and Terms of Use for more information. Bestmattressonline.org includes advertising by Puffy LLC.
Editor's #1
Mattress To Buy
---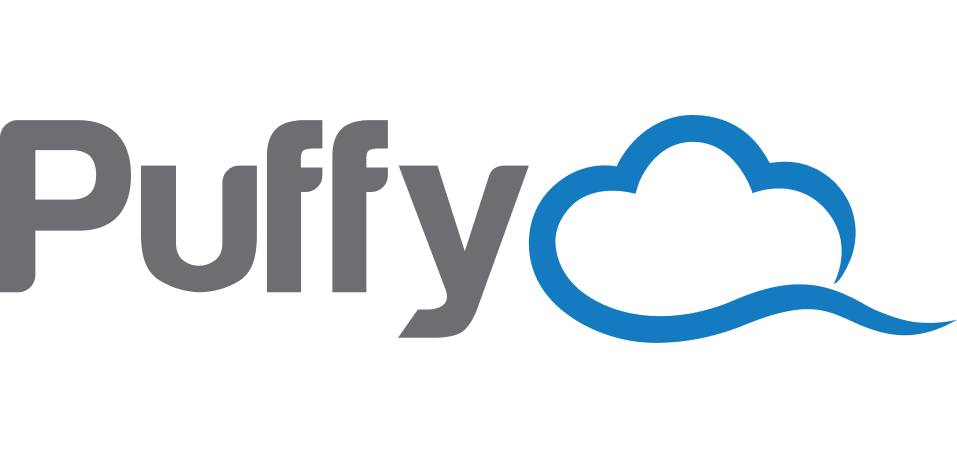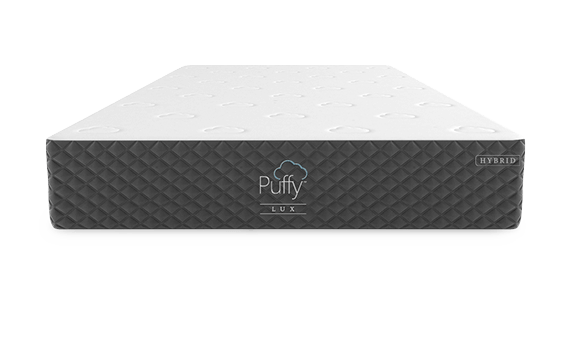 Featured on Consumer Reports, the Puffy Lux Hybrid comes with a lifetime warranty & a 101-night free trial with a money-back guarantee. Puffy Lux is made in the USA.
The Puffy Lux Hybrid features 6 layers, starting with a Stain-Resistant Cloud Cover that you can zip-n-wash. The second layer features Cooling Cloud™ foam. The third layer includes Plush Dual Cloud Foam.
The fourth Climate Comfort™ Foam layer is humidity-resistant, keeping the mattress cool and preventing temperature fluctuations. Following this layer is a high-density Firm Core Support + Contour Adapt Coil base, offering maximum balance, airflow, and edge support. The final layer of the Puffy Lux Hybrid is the Grip Base Cover. It helps keep the mattress perfectly still on any bed frame without sliding. All Puffy foams are CertiPUR-US® certified.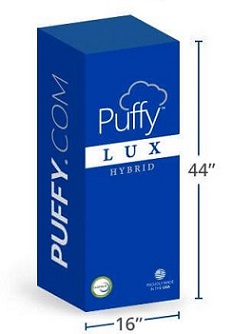 First thing's first, we have to talk about the incredible unboxing experience. It shows up in a standard large box, and unlike many of the mail order mattresses, the Puffy Lux was incredibly easy to take out of the box and position onto the bed frame. Some mattresses require a ton of lifting to get it in place, but one person can fairly easily unbox the Puffy Lux, although two people might be best for speed.
One of the best parts about buying a Puffy mattress is that they make each mattress to order. Why is this so important? Because the mattress hasn't sat in the plastic wrap in a factory for months, it doesn't soak up any weird smells. Some mattresses will have a long "off-gassing" period in which the chemical, plastic smell needs to dissipate before you can really get the full enjoyment out of the mattress.
With the Puffy Lux, there is hardly any off-gassing period at all. Once you unwrap the mattress, it smells fresh without any weird smells. It might seem like a small detail, but this is a huge benefit that most people will like.
Six Layers for Ultimate Comfort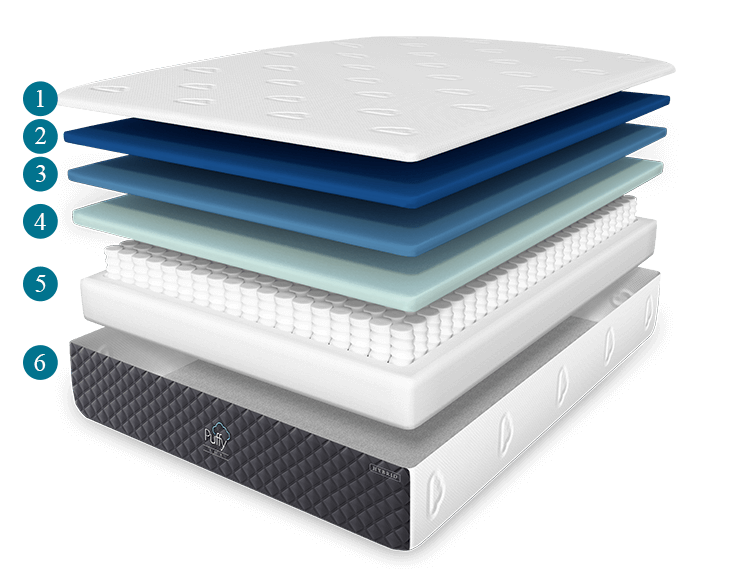 Below is a breakdown of Puffy's construction process:
1) Stain-Resistant Cloud Cover (Patented) – The first layer of the Puffy Lux Hybrid Mattress is a Stain-Resistant Cloud Cover (Patented). The cover features a zip-n-wash design which means the cover can be removed easily and washed. The cover material is both hypoallergenic and Oeko-Tex® Standard 100 Certified.
2) Cooling Cloud™ Foam – Exclusive to Puffy mattress, this Cooling Cloud™ foam is made from premium materials that give the mattress the unique feeling of 'sleeping on a cloud.' Many years of testing went into developing Puffy's Cooling Cloud™ foam, which is why it is now one of the most specialized foams in the market.
Here are some of the factors that make the Cooling Cloud™ foam better than the standard memory foam:
Cooling Cloud™ memory foam uses conduction and convection to disperse heat from the body which enables better airflow.

The foam is gel-infused so sleepers will feel an instant cooling sensation.

Cooling Cloud™ foam adapts to the body instantly, so you won't need to wait before you can get comfortable.
The difference in contouring time may not be much, but it still deserves a mention especially for those who'll rather their mattress contours instantly, instead of having to wait for it to warm up.
3) Plush Dual Cloud Foam (Exclusive to Puffy Lux Hybrid) – Designed to offer maximum support and promote quick muscle recovery, the Plush Dual Cloud foam found only in the Puffy Lux is highly supportive. Sleepers will experience targeted contouring and pressure relief to sensitive areas such as the back, hips, and shoulders.
4) Climate Comfort™ Foam – Puffy mattresses are known for their advanced temperature and humidity-resistant materials like the Climate Comfort™ foam layer used for combating climate fluctuations.
5) Firm Core Support Foam + Contour-Adapt Coils – Not only does Puffy offer unmatched comfort, their mattresses are also strong and durable. The Puffy Lux Hybrid is supported by a Firm Core Support foam + Contour-Adapt Coils base layer that delivers better stability, edge support, and motion isolation. The coils also add a soft bounce to the mattress, rather than a sinking feeling.
6) Grip Base Cover – The Grip Base Cover is the sixth layer of the Puffy Lux Hybrid. It's a durable 100% polyester fabric that grips to the surface of the bed frame to prevent it from slipping when there is movement on the mattress. The grip base layer is also hypoallergenic and Oeko-Tex® Standard 100 Certified.
Save $1,350 Off Your Puffy Lux Mattress!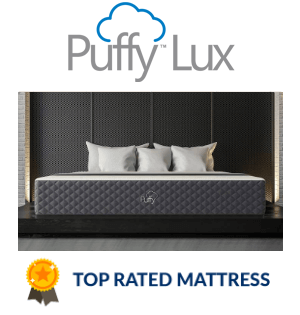 The Bounce
Some memory foam mattresses feel like concrete, while traditional spring mattresses feel way too soft. Puffy Lux combines the best of both worlds with an incredibly supportive base layer that has enough bounce to help you get out of bed in the morning. When sleeping on a super firm and absorbent memory foam mattress, getting out of bed can feel like a struggle. Puffy Lux has just enough natural spring thanks to the top layers to help you get out of bed without any problem.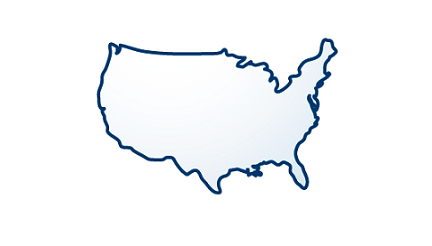 Your new Puffy Lux mattress hasn't been kept in a warehouse overseas for months. Instead, as soon as you order it, they'll manufacture it right here in the United States. The best part is they use only the best materials, including Certipur-US Certified Foams. With these materials, it's a sure bet that Puffy Lux mattresses will hold up for years to come.
Who is Puffy Lux for?
Puffy Lux is a great option for anyone that wants a cooler, all around more comfortable night's sleep. It isn't too firm, nor is it too soft. On a scale of 1 to 10, with 1 being the softest mattress ever and 10 being a brick wall, Puffy Lux falls somewhere around 6.0 and 7.5. It really is right in that sweet spot that I think anyone could enjoy, regardless of their comfort preferences.
If you sleep on your back, the mattress will give you the solid support you need while gently cradling your spine and lower lumbar. If you're a side sleeper, Puffy Lux will perfectly conform itself to the shape of your spine for endless comfort. Stomach sleeper? You'll have the same result. We tried every sleeping position imaginable, and could not find one that was uncomfortable.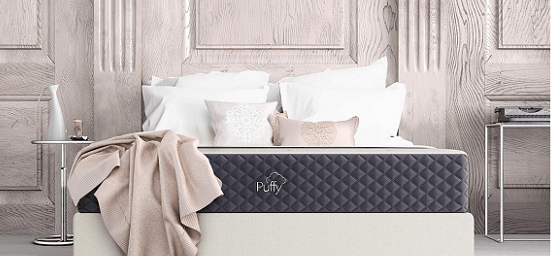 If you're in the market for a premium, soft, and cool hybrid mattress, Puffy Lux is the choice for you. It's incredibly versatile and has unique comfort features you can't find on another mattress in this category.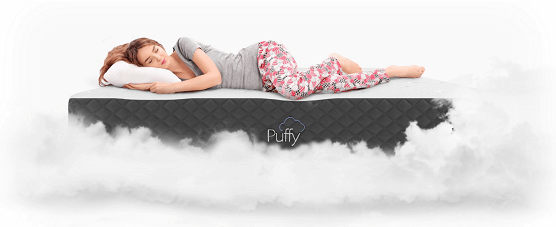 The best part about Puffy Lux is that you can try it for 101 nights worry-free. If you don't love it or think that it's the absolute best mattress you've ever tried, you can send it back, and they'll refund your purchase. This is an awesome benefit and will ensure that you love your new mattress guaranteed.
We review products we love and by clicking on the products below, we may receive a commission at no cost to you.